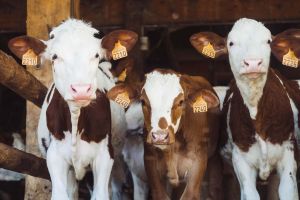 Indiana PA Livestock Insurance. Quality Coverage At Great Rates.
Are you a livestock farmer in Indiana PA seeking specialized coverage for your valuable animals? Look no further! William G Mechling Insurance Agency is your trusted partner for comprehensive livestock insurance. To know more, give us a ring at 724-465-4261.
Why Livestock Insurance is Crucial
Your livestock isn't just your livelihood; it's your legacy. Animals are a significant investment and integral to your farming operations. From disease outbreaks to natural disasters, livestock are susceptible to various risks that could set you back financially. William G Mechling Insurance Agency is here to provide you the peace of mind you deserve.
If you require personalized advice, call us at 724-465-4261, or click here -

Types of Livestock Coverage
We at William G Mechling Insurance Agency offer a range of specialized coverage options tailored to your unique needs:
Animal Protection
From disease control to accidental injuries, we have you covered.
Veterinary Expenses
Cover both routine check-ups and emergency medical treatments.
Liability Coverage
Shield yourself from legal repercussions related to your livestock.
Common Claims Covered
At William G Mechling Insurance Agency, we provide coverage for a variety of typical claims such as:
| Type of Claim | Description |
| --- | --- |
| Disease Outbreak | Coverage for veterinary costs and potential revenue loss. |
| Accidental Injuries | Costs related to medical treatments and surgeries. |
| Theft | Compensation for the market value of stolen livestock. |
| Natural Disasters | Coverage for loss due to events like floods, fires, and storms. |
Affordable Plans
Quality coverage doesn't have to break the bank. At William G Mechling Insurance Agency, we offer competitive pricing and flexible payment options. Why wait? Get in touch with us at 724-465-4261 today!
How to Get Started
Ready to secure your livestock and your livelihood? Give us a call at 724-465-4261 for a customized plan that suits your needs. You can also use our online quote request form to kickstart the process.
Why Choose William G Mechling Insurance Agency?
We pride ourselves on offering:
Customized Livestock Insurance Plans
Competitive Pricing
Expert Consultation
Excellent Customer Service