General Liability Coverage
General Liability insurance covers the church's legal liability resulting from injuries to people or damage to their property.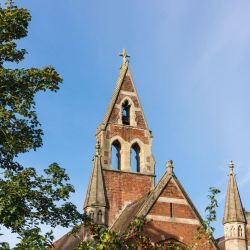 Church Medical
Provides primary payments for injuries occurring on your premises, and for accidents resulting from church activities away from your premises.
Liability options available:
Hired and Non-Owned Auto Liability - Provides excess liability and medical coverage for the church should legal liability arise out of the use of a non-owned or hired auto.
Directors, Officers and Trustees Liability - Provides coverage for wrongful acts of church directors, officers, trustees, business administrators and ministers.
Employment Practices Liability - Employment practices liability covers a church in areas relating to employment including discrimination, wrongful termination and sexual harassment.
Sexual Misconduct Liability - Provides coverage that protects a church from legal liability arising from acts of sexual misconduct by a staff member or volunteer.
Employee Benefits Liability - Provides coverage on negligent acts, errors or omissions arising out of the administration of employee benefits program.
We also have the following medical coverages that are enhancements on policies under your general liability medical coverage:
Day Care and School Medical - Provides excess payments of medical expenses for accidents resulting from activities scheduled and supervised by your church or on its behalf.
Interscholastic Athletic Medical - Provides Excess payments of medical expenses for accidents that might result from practicing, instructing, and participating in athletic events.
Additional Products Available
Business Auto Policy
Umbrella Policy
Workers' Compensation Policy
Dental
Vision
Group Life
Short Term Disability
Long Term Disability
Long Term Care